Vibrant Holi Expressions: Immerse in the festive spirit with our curated Holi gifting collection at The Surprise Inside. Discover an array of colorful surprises that capture the essence of joy, togetherness, and renewal. From exquisitely crafted welcome bouquets that signify new beginnings, to shimmering silver tokens that reflect the purity of the occasion – our Holi gifts are designed to add a touch of magic to your celebrations. Embrace the spirit of giving and spread the hues of happiness with thoughtfully chosen presents that perfectly embody the vibrancy of Holi. Explore now and make this festival of colors truly unforgettable.
Embrace the divine aura of Ganesh Chaturthi with our specially curated gifting selection at The Surprise Inside. Discover a range of heartfelt gifts that pay homage to Lord Ganesha and celebrate the spirit of new beginnings. From intricately designed idols that radiate positivity and luck, to beautifully crafted Ganpati-themed gifts that infuse your celebrations with grace – our collection encapsulates the essence of this auspicious occasion. Whether you're seeking blessings for your home or wishing loved ones prosperity, our Ganpati gifts carry the divine energy of the festival. Explore now and bring home the blessings and joy of Ganesh Chaturthi.
Enchanting Diwali Treasures: Illuminate the festival of lights with our captivating Diwali gifting assortment at The Surprise Inside. Dive into a world of radiant surprises that capture the essence of love, prosperity, and togetherness. From exquisitely designed diyas that symbolize the triumph of good over evil, to intricately crafted festive hampers that blend tradition with modernity – our Diwali gifts embody the spirit of the occasion. With every gift, you're sharing the joy of this auspicious festival and spreading the warmth of your affection. Explore now and make this Diwali a luminous celebration filled with unforgettable memories.
Christmas Festival gifting
Joyful Christmas Celebrations: Immerse yourself in the spirit of giving with our delightful Christmas gifting collection at The Surprise Inside. Experience the magic of the season through a curated selection of heartwarming surprises that embody love, generosity, and festivity. From charming ornaments that adorn trees with memories, to carefully crafted holiday hampers that capture the flavors of the season – our Christmas gifts are designed to kindle the joy of sharing. Each present tells a story of warmth and togetherness, making your celebrations truly special. Explore now and make this Christmas a time of enchantment, laughter, and cherished moments.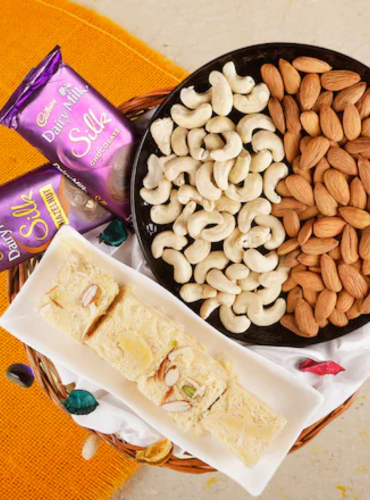 Durga Pooja Festival Gifting

Divine Durga Puja Celebrations: Immerse in the spirit of devotion and celebration with our exclusive Durga Puja gifting collection at The Surprise Inside. Discover a range of thoughtful gifts that embody the essence of strength, courage, and divine blessings. From intricately designed idols that invoke the Goddess's grace, to beautifully curated puja kits that facilitate meaningful worship – our Durga Puja gifts bring the sanctity of the occasion to life. Each gift carries the energy of devotion and invokes a sense of sacredness, making your celebrations truly divine. Explore now and make this Durga Puja a time of spiritual connection and blissful harmony.
Why you should Choose The Surprise Inside For Gifting!
Choose The Surprise Inside for Gifting, Elevate your gifting game with us! We're not just a gift shop; we're an experience. Our carefully curated collection is designed to astonish and delight. From beautifully packaged presents to the thrill of discovering the unexpected inside, we redefine gifting. Our unique approach ensures your gestures leave lasting memories.
With top-notch quality, diverse options, and heartfelt surprises, we transform ordinary moments into extraordinary memories. Whether it's birthdays, anniversaries, or any celebration, choose The Surprise Inside to make your gifts truly unforgettable. Embrace the joy of giving with a touch of magic – exclusively from us.